For YHAI Himalayan Trekkers : Things To Bring (2023)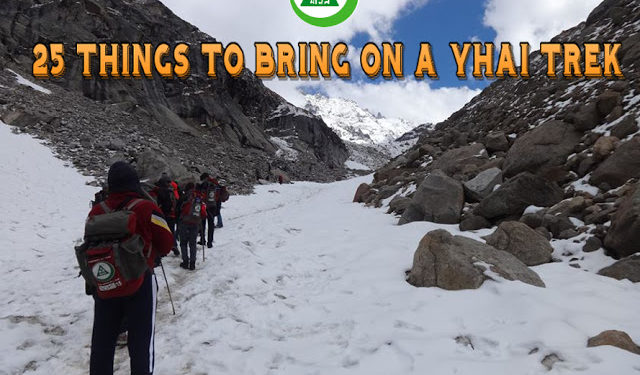 T

hese are my personal suggestions based on serving as a YHAI camp leader and Field Director in Himalayan treks and my experience as a certified Mountaineer, Skiier & Kayaker.
What will YHAI provide you?
At Base camp, you will be provided :
1. Hygiene sheet: Issued only at base camp.Comes fresh from the laundry, for only you. Use it throughout the trek, and carry it from camp to camp. Deposit back to basecamp after the trek. Some choose to buy and bring their own. (here's one you can pick up)
2. Blanket: Issued at every camp, for you to use and deposit back when leaving that camp.
3. Sleeping Bag: Issued at every camp, for you to use and deposit back when leaving that camp.
4. Rucksack : Issued only at basecamp.You could use your own rucksack instead of YHAI's. If you are bringing your own backpack, then ensure you bring a lightweight one. Trust me each gram matters, when you are climbing that hill.
Things provided by YHAI

Now that you are trekking, let me tell you two secrets.
1st secret is trekking is addictive.
You are going to find yourself on a trek more often from now on. Trekkers usually regret buying the low-cost option, which doesn't last them more than 2 treks. So, for each must-bring item, I have listed both the Low cost vs Good value option (My choice)
2nd secret: A trekker with a light backpack, with just the essentials, is a happy one.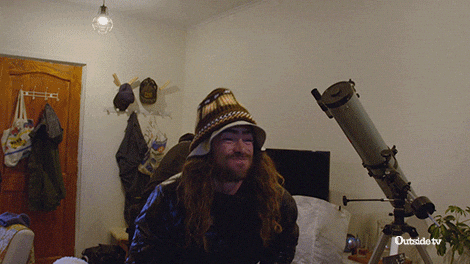 So if you have started asking yourself: How heavy is this? Is it really necessary?
Congratulations! You're thinking like a happy trekker 🙂
————————————————
1. Cotton Shirts/T shirts
Bring a maximum of 2 pcs,1 for wearing on the trek, the other for backup if you get wet. Avoid white/light colour. They get dirty easily. Choose full sleeves, they would protect you from harsh sunlight and tan. Normal T-shirts will do.
2. Track pants
3. Raincoat
This is an absolute must-have, because of the lightweight and the warmth it provides you, in the Himalayan cold. Buy the top and bottom set in the right size. I have listed good brand names, which offer good quality products.
———————————————–
5. Sun Cap + Woolen cap
6.

Trekking Shoes
———————————————–
7.Socks :

W

oolen and

C

otton
Normal quality 1 pair
———————————————–
9. Mug
———————————————–
10.Lunch box
———————————————–
11. Spoon
A plastic spoon is lightweight
———————————————–
12. Water purifying tablets +Water Bottle
———————————————–
13.Sunscreen
———————————————–
14. Pen knife
15. Sewing kit
Imagine a situation your only rucksack has torn. Simply open your sewing kit and do a temporary repair , which will last, until you're back to base camp.
———————————————–
16.

S

unglasses
17. Vaseline
———————————————–
18. Soap
19.

Toilet Paper
———————————————–
20. Tissues
———————————————–
21.

Towel
tt
———————————————–
22. Medicines (First

A

id kit)
———————————————–
23. Camera and Memory cards
My favourite point & shoot camera, designed specifically for adventurers like us is Go Pro.
A camera that is as tough as you.




2nd choice
Nikon Coolpix AW110

COOLPIX AW130 is built tough so it keeps going wherever you go. You can dive with it to a depth of 30 m/100 ft with no need for housing. Enjoy photography under various extreme environments and situations, as this camera withstands drops from up to 2.1 m/7 ft., and temperatures down to -10?C/14?F. By combining with various accessories it's possible to expand your range of activities even further.
———————————————–
24.

Woolens
A must-have: In addition to thermals and T-shirts you will wear a third layer of a warm jacket.
The winter's temperatures easily drop to subzero temperatures. Ensure the jacket you bring, will perform well in these conditions.
My choice
I have listed 3 price ranges, each for men and women here. Pick the right size . This investment will keep you toasty and warm on the trek and winters back home.
WOMEN
———————————————-
25. Torch
4. Pickles, Chutney, snacks etc.
These are other guides written to give you a complete understanding. Happy reading 🙂
The above complete list of trekking essentials applies to all the treks below.
KEDARKANTHA WINTER EXPEDITION YHAI things to bring, DALHOUSIE WINTER TREK YHAI things to bring, SANDAKPHU GURDUM WINTER TREK YHAI things to bring, NAINITAL WINTER TREK YHAI things to bring,SARPASS TREK YHAI things to bring, SAURKUNDI PASS TREK YHAI things to bring,
CHANDERKHANI PASS TREK YHAI things to bring, HAR KI DOON TREK YHAI things to bring