Eco-friendly decorating ideas for a More Sustainable Home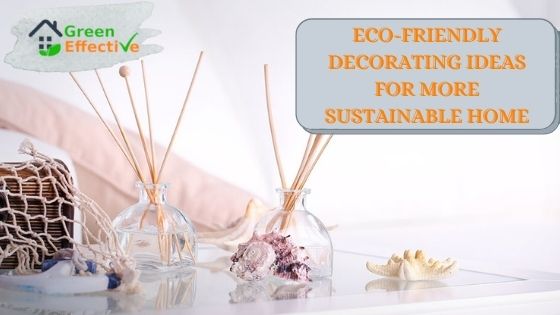 Are you seeking unique methods to incorporate eco-friendly elements into your home? You can create a paradise out of green materials at home. You can take help of a little imagination, some fun, and these eco-friendly design ideas. Continue reading to get inspired.
Decorating a house isn't easy. Whether you're completely redoing your interiors or simply making a few green modifications. The entire process of redesigning while maintaining front-end sustainability is overwhelming. Choosing green décor components will be more advantageous in the long term.
It's easy to become lost in the world of interior design ideas on the internet. People spend hours browsing through images of popular paint colours and furniture designs. They always think about how they may improve the appearance of their homes. You might wish to do the same. But you're worried that your design choices would conflict with your eco- conscious lifestyle.
Fortunately, we have five Eco-friendly home decor ideas that are both stylish and environmentally friendly. You may decorate your home as you like. Also still helping to make the world a better place to live. But first, we will see why we should use eco-friendly decor for our house.

Why we should use Eco-friendly Decor
Sustainable design aims to reduce negative impacts on the environment. It also looks at the health and comfort of building occupants. The primary goals are to limit nonrenewable resource use, eliminate waste, and promote healthy, productive ecosystems.
maximise site potential;
reduce nonrenewable energy usage;
utilise environmentally friendly goods;
protect and conserve water;
improve indoor environmental quality;
improve operations and maintenance procedures
Eco-friendly home decor ideas
Reclaimed wood Decor
If you want to replace your flooring, improve your cabinets, use reclaimed woods. Unlike buying anything new manufactured from freshly killed, oxygen-supplying trees. It is recycled and does not harm the environment when used in your house.
Barn-styled bedroom doors or floating shelves in a living area are examples of popular interior design options.
So what are you waiting for, buy the reclaimed wood to make your home eco-friendly.
Indoor Plants
Over the last decade, indoor plants have become a design craze. Everyone wants lush ferns and vibrant succulents to lend a natural feel to their house. But you should not spend money on the plastic pots and chemical-based fertilisers that come with them. So there is only one way to avoid plastic pots & fertilisers.
When you cultivate air-purifying plants that thrive with a little sunshine from your nearest window. You may fill your house with plants that don't weigh you down. These plants are generally low-maintenance and cleanse the air around them. So you're removing airborne pollutants while also improving the appearance of your house.
So it's time for you to go green & use sustainable indoor plants.
Look for sustainable Rugs
Do you want to add warmth to a space by installing hardwood or tile flooring? Look for carpets produced from ecological materials such as jute, seagrass, or recycled plastics. You decrease the echoing of your house, right? You need to cover your flooring with soft carpeting that doesn't contain microplastics.
So buy the sustainable rugs & make your house floor eco-friendly.
Change your Lightening
Changing your light switches is another way to combine aesthetic with sustainability. For the fixtures they use the most, many individuals opt to instal a dimmer. Dimmers are ideal for spaces such as dining rooms and living rooms. Use them  where you want to control the lighting and create a more relaxed atmosphere.
Make sure your dimmer switch is energy star approved. You don't keep it on the maximum setting all of the time, you'll save money on your energy bill. The waste generated by power plants is reduced when there is less electricity. All you have to do now is flip a switch.
Non-toxic wall Paints
Always use eco-friendly paints whether painting your walls, Why? Because these non-toxic wall paints are devoid of hazardous VOCs (Volatile Organic Compounds). These VOCs are damaging to both the environment and humans. Surprisingly, carpets have been found to generate significant quantities of VOCs, which encourage allergy buildup.
So let's paint your walls with non-toxic paints.
Buy Sustainable Materials
When it comes to flooring, choose eco-friendly options like bamboo, cork, or linoleum. Rattan, bamboo, and sustainable wood furniture are excellent alternatives.
You can also choose hemp linens, recycled glass dinnerware. Other options like olive wood tableware, recycled polyester drapes, or organic cotton bedding. Natural materials like seashells or oddly shaped rocks are wonderful decorative items. They will add an earthy touch to any environment.
Upgrade your house with Eco-friendly home decor ideas if it's in need of a makeover. When it comes to picking décor components, make thoughtful and clear decisions. It will make all the difference. So, to have a sustainable house, seek for attractive alternatives. A tiny move taken now might have a big impact tomorrow!