How to travel safely during COVID (Air travel)
We are flying again! After a sharp drop in air traffic worldwide we have phased into a new normal.
Compare that,with the scenario during lock down,with 40% lesser flights.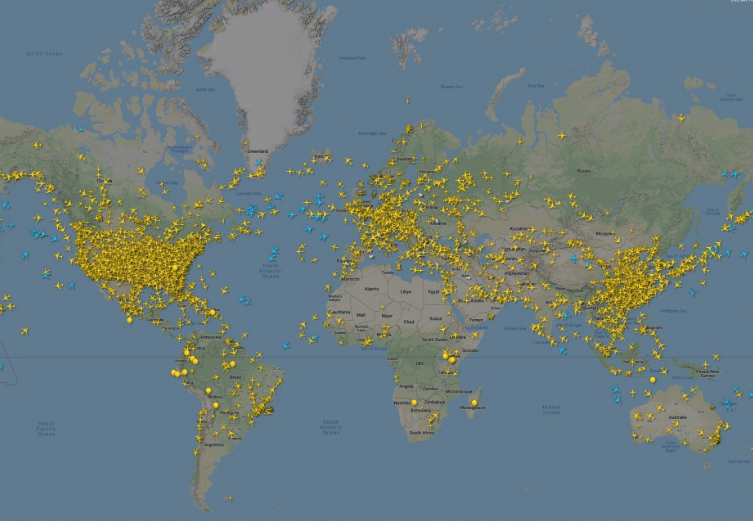 The new normal has changed how air travel looks.Wishing safe air travel
Here we are guiding you through the healthiest way to fly until the glorious day of vaccination 🙂
Go Private: Pros and Cons of Charter flights
Pros
Seclusion from Commercial passenger (possible carriers)
Greater control over social distancing .
Avoiding airport crowds :
Faster : Avoiding long lines to process documentation
Some countries are only allowing private jets
Some are equipped as a air ambulance
Cons
Cost :
Planning : There's no denying that arranging a private jet flight requires more work than booking yourself onto a commercial flight. It's easier and quicker if you're all Indian nationals on the flight. For instance, flights to civil and defence airports for Indian nationals can be activated in as little as two to three hours. But in case there are foreign nationals flying, necessary permissions can take anything from one working day to up to seven working day
Are your aircraft fitted with High Efficiency Particulate Air (HEPA) filtration systems to more thoroughly cleanse onboard air of smaller particles, like viruses?
In certain circumstances, you can fly privately for cheaper: if you sign up for a membership, for instance, or take advantage of services such as ferry flights (fixed-route charter flights discounted at up to 90 percent of the usual cost, if you're very lucky). The key is to always ask the aviation company or your travel agent for any offers, 
With inputs from Ameerh Naran, CEO Vimana Private Jets, Sachit Wadhwa, co-founder of Book My Charters, Santosh Kumar Sharma, co-founder and CEO of Foresee Aviation. 
Let's go through the areas during flight travel , that could expose you to the virus.
While booking
Try to book to and from tier 2 airports which will not have huge traffic like Pune instead of Mumbai, Chandigarh instead of Delhi. Book flights during odd hours late at night to avoid heavy footfall at airports. Carry a printout of your web check-in done confirmation. Keep all things needed at the airport in a separate pack. To avoid rummaging through your luggage and possibly infecting other contents.
Here are some must-haves that are proven to reduce your exposure and protect you:

1.Hand Sanitizer: Spray helps in easier application

2.PPE suit: This is another layer of protection for your body, which can be conveniently removed at your destination, to ensure you are not carrying the virus in with your clothes.

3.Gloves: First this serves as a visual reminder to not touch your eyes and mouth ( cause of the infection) and second this ensures that when once you are indoors you can remove it and hand sanitiser for an extra layer of protection.
4.Face shield
5.N95 mask
6.Alcohol based swabs :
Travel to airport
Try to take a personal vehicle.If not possible,book through ola/uber or a known private taxi operator.Since we don't know the history of the earlier passengers.Please exercise caution by wearing face shield,mask ,gloves and PPE suit.There is nothing called over cautious when it comes to you and your family's health.Be careful when in contact with door handles .Please open your car windows for ventilation. Pro tip: Practice it before, so you get used to the warm ,slight suffocation feeling when wearing all the protective gear.
Entering airport
Process electronic payment to driver to avoid contact. Collect trolley yourself and put the luggage on to it and follow the social distancing guidelines marked on the floor. Maintain distance during waiting in line. Be polite and proactive by asking others to maintain distance.
Touchless boarding pass
The check in electronic kiosk( at most airports) already has a touch less features built-in. Get familiar with using it, to avoid touching it while learning how-to on the spot.
ID check
The process has been made touchless. However, carry a separate envelope for id proof and a boarding pass. Don't handle that envelop without gloves(once at destination sanitize it) In case the surface has been touched by earlier passengers who are carriers.
Baggage drop.
The process is changed. Please weigh your luggage beforehand to avoid surprises at the weigh-in counter and having to repack things to hand baggage in the middle of the airport. You need to tag the baggage urself.
Security check Cover your hand baggage with a disposable cover which can be discarded once at your destination.The trays are sanitized after every use. But take your personal precautions.
Know beforehand the way to the departure gate to avoid coming in close contact with others to ask for directions.
Documentation in case of international travel, Carry passport, visa separately once it is in contact with officials sanitize and keep it in travel envelope
Waiting at the gates away from others. The seating is already marked in social distancing way, try to sit further.
Checking at gate
Thermal scan at gate and boarding pass, sanitize again.
Bus to craft try to board on the last trip to avoid a crowded bus. Sit away from others as much as possible
Boarding craft maintain social distance
During flight
Avoid reaching towards overhead space to keep hand baggage. keep small hand baggage which u can keep comfortably with u on seat. Try not to remove your masks and shield for eating .eat before trip. For beverage carry something with straw so you can drink without removing mask, from side.
Deboarding craft
Please don't hurry to get up and stand crowded in line to get down from aircraft. Patiently sit and try to leave last to avoid any crowd.
Bus to airport Arrival terminal
Trolley and luggage collect.Sanitize hands
Exit
Have a pre-booked vehicle if someone is receiving you
completely sanitize shield and new gloves hands before entering remove PPE kit outside your home. Remove disposable layers outside put in the dustbin bag and dispose outside the house. Don't carry inside the home
quarantine yourself for 2 weeks in separation from rest of house to keep yourself and others healthy.
Get tested as soon as possible.
Thank your divine, for protecting and giving your stronger health.