Spotting a Shikra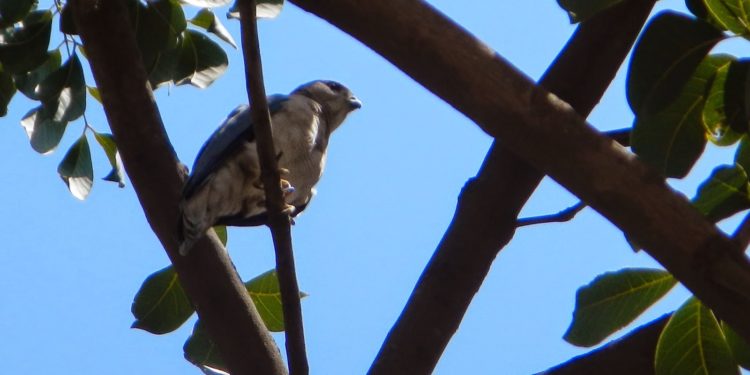 I just happened to catch the silhouette of its winged flight and looked up to just catch it perching in our garden's tree. I raced to the top of stairs leading to our terrace and hurriedly aimed with my camera.Praying that it didn't whisk away into another flight ,laughing at the photographer's predicament who wished he could fly alongside it.But as i pressed the click button , I was lucky enough to capture this 🙂
My capture of the moments ,this male shikra gave me to photograph
Upon feverishly googling to research what this bird was called I was at a loss .i picked up my Book Birds of India and narrowed it down to 3 species but to get an expert opinion I used a online resource group's help. This is a wonderful group that let's you tap into the expertise of other birdwatcher's in India. I suggest using this group to identify a bird you spotted. http://www.birdforum.net/
The adult male shikra is smaller than the female with a striking red eye, pale grey plumage above and barred chestnut feathers below. In contrast, the adult female is darker and browner, with a deep-orange eye
The shikra was a favourite among falconers in India and Pakistan due to the ease with it could be trained and was frequently used to procure food for the more prized falcons .


Luckily this bird is at the safest part on the endangered scale
.
Wishing it remains that way
.