Must read Mt.Everest books for mountaineers
Top Mount Everest books
Mt.Everest has always been source of mystery,inspiration,thrill and adventure.These books are written to get you close to the Mountain from your armchair.Perhaps it will inspire you to attempt the summit yourself.Happy reading!
1.

Into Thin Air: A Personal Account of the Mt. Everest Disaster
This book is not only a great account of a catastrophe that rocked Mt. Everest in 1996 but also a window to what the commercialized world of mountaineering looks like.
2.
 The Climb:Tragic Ambitions on Everest
A fascinating account of what happened on Mount Everest in May of 1996. Written in response to Jon Krakauer's "Into Thin Air" Anatoli Booukreev defends his climbing without oxygen and going on ahead of his team to reach the summit. His best reply, I thought, was his answer to Krakauer's criticism about not using oxygen. 
3.
No Summit out of Sight:
 The True Story of the Youngest Person to Climb the Seven Summit
Jordan Romero climbed Mount Everest at age thirteen?and he didn?t stop there. In this inspiring young adult memoir, he tells how he achieved such great heights.
For Mallory, as for all of his generation, death was but ?a frail barrier that men crossed, smiling and gallant, every day?. As climbers they accepted a degree of risk unimaginable before the war. What mattered now was how one lived, and the moments of being alive. 
5.
Everest: Expedition to the  Ultimate
'Everest by fair means – that is the human dimension, and that is what interests me ? In reaching for the oxygen cylinder, a climber degrades Everest ? a climber who doesn't rely on his own strength and skills, but on apparatus and drugs, deceives himself. In May 1978 Reinhold Messner and Peter Habeler became the first climbers in history to reach the summit of Mount Everest without the use of supplementary oxygen
6.
 Left for Dead: My Journey Home from Everest
He was effectively left for dead, but drawing upon reserves of determination and courage he didn't know he had – as well as the extraordinary selflessness and bravery of a Nepalese helicopter pilot he'd never met – he finally made it to safety. Only then could a new battle begin: to rebuild his life with a family he'd taken for granted for too long.
7.
Ghosts of Everest: The Search for Mallory & Irvine
This is the dramatic inside story of the 1999 expedition to find the bodies and solve the enigma of George Mallory and Andrew Irvine, who tragically and mysteriously died on Everest on 8th June 1924, in an attempt to reach the peak. What happened to Mallory and Irving the day they set out on their summit bid only to disappear without any evidence of their fate or possible achievement? Were these two brave pioneers the first to reach the summit 29 years before Sir Edmund Hillary and Tenzing Norgay? How did they perish and where
One of the inspirations for the major motion picture Everest, starring Jake Gyllenhaal and Keira Knightley.
This is the true story of a 24-hour period on Everest, when members of three separate expeditions were caught in a storm and faced a battle against hurricane-force winds, exposure, and the effects of altitude, which ended the worst single-season death toll in the peak's history.
For generations of resolute adventurers, from George Mallory to Sir Edmund Hillary to Jon Krakauer, Mount Everest and the world's other greatest peaks have provided the ultimate testing ground. But the question remains: Why climb? In 
High Exposure,
 elite mountaineer and acclaimed 
Everest
 filmmaker David Breashears answers with an intimate and captivating look at his life. 
For Breashears, climbing has never been a question of risk taking: Rather, it is the pursuit of excellence and a quest for self-knowledge. Danger comes, he argues, when ambition blinds reason. The stories this world-class climber and great adventurer tells will surprise you — from discussions of competitiveness on the heights to a frank description of the 1996 Everest tragedy
10.
A Life on the Edge, Anniversary Edition: Memoirs of Everest and Beyond
Above All Things is a heart-wrenchingly romantic historical novel by Tanis Rideout, based on British mountaineer George Mallory's fatal attempt to climb Everest, and his wife Ruth, who is left at home, waiting for him to return to her.
In the Himalayas two climbers strike out for the summit of the Earth's highest mountain – aiming to be the first to the top, and reclaim a little of Britain's lost glory.
In Cambridge, a wife collects the milk, gets three children out of bed and waits for a letter, a telegram – for news of her husband
13.
Everest: The Unclimbed Ridge
June 1924. On the brutal North East Ridge of Mount Everest, famous adventurers George Mallory and Andrew Irvine vanish into the snow-whipped night.
Daredevil explorer Richard Deacon devises a plan to follow in the men's footsteps, accompanied only by two friends. Off piste and with no support team, the three men strike for Everest's peak and the most vicious climate on earth.
15.
Tiger of the Snows: Tenzing Norgay
Growing up at the foot of Mount Everest, a Sherpa boy named Tenzing Norgay dreamed about one day being the first to climb the giant in his backyard. For years he practiced, carrying loads of rocks in his backpack to grow stronger, prowling the mountain's lower levels; later, carrying loads of equipment for other adventurers, but always, always, wanting to climb himself.
16.
Dark Summit: The True Story of Everest's Most Controversial Season
In 2006, 11 people died attempting to reach the summit, the most fatalities since 1996. But unlike 1996, 2006 saw no surprise blizzard, only the constant dangers posed by unstable ice, merciless cold, thin air – and human nature
17.
Life and Death on Mt. Everest: Sherpas and Himalayan Mountaineering
The Sherpas were dead, two more victims of an attempt to scale Mt. Everest. Members of a French climbing expedition, sensitive perhaps about leaving the bodies where they could not be recovered, rolled them off a steep mountain face. One body, however, crashed to a stop near Sherpas on a separate expedition far below
18.
Chomolungma Sings the Blues
If there is one mountain that is known across the whole world, it must be the highest – Everest. To the people who live at its feet she is Chomolungma, Goddess Mother of the World. The disappearance of George Mallory and Andrew Irvine close to the summit in 1924 lent the mountain a tragic romanticism, of young men risking everything for a dream.
A portrait in observance of the first Everest ascent's fiftieth anniversary follows the life of Tibetan-born Sherpa Tenzing Norgay, from his life as an illiterate yak herder to his relationship with Sir Edmund Hillary and his accomplishments as a mountaineer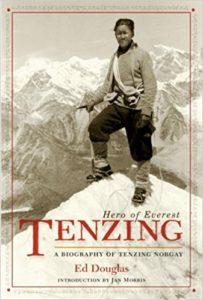 20.
Climbing High: A Woman's Account of Surviving the Everest Tragedy
On May 10, 1996, Lene Gammelgaard became the first Scandinavian woman to reach the summit of Mount Everest. But a raging storm and human error conspired to turn triumph into catastrophe.
21.High Crimes: the Fate of Everest in an Age of Greed
High Crimes
 is journalist Michael Kodas's gripping account of life on top of the world–where man is every bit as deadly as Mother Nature. In the years following the publication of 
Into Thin Air
, much has changed on Mount Everest. Among all the books documenting the glorious adventures in mountains around the world, none details how the recent infusion of wealthy climbers is drawing crime to the highest place on the planet
22.
My Quest for the Yeti: Confronting the Himalayas' Deepest Mystery
One of the greatest mountaineers alive unravels one of the world's greatest enigmas For over 20 years Reinhold Messner has been obsessed with the secret of the Yeti, the Himalayan creature of legend, who in the West became infamously known as the abominable snowman.
23.
Savage Summit: The True Stories of the First Five Women Who Climbed K2, the World's Most Feared Mountain
In Savage Summit
, Jennifer Jordan shares the tragic, compelling, inspiring, and extraordinary true stories of a handful of courageous women — mothers and daughters, wives and lovers, poets and engineers — who defeated this formidable mountain yet ultimately perished in pursuit of their dreams
24.
Where the Mountain Casts Its Shadow: The Dark Side of Extreme Adventure
Without risk, say mountaineers, there would be none of the self-knowledge that comes from pushing life to its extremes. For them, perhaps, it is worth the cost. But when tragedy strikes, what happens to the people left behind? Why would anyone choose to invest in a future with a high-altitude risk-taker? What is life like in the shadow of the mountain? Such questions have long been taboo in the world of mountaineering. Now, the spouses, parents and children of internationally renowned climbers finally break their silence, speaking out about the dark side of adventure.
25.Mountain Madness
Legendary climber Scott Fischer found in Mount Everest a perfect landscape for his fearless spirit. Scaling the world?s highest peak tested his skills, his courage, and his endurance. His legendary final expedition?and its tragic outcome?are portrayed in 
Everest
, the 3-D movie adaptation starring Jake Gyllenhaal as Scott Fischer. Robert Birkby, one of Scott?s close friends, captures in this intimate and stirring portrait who Scott Fischer really was and what led him to climb to the top of the world?before he left it altogether
Joe Simpson and his climbing partner, Simon Yates, had just reached the top of a 21,000-foot peak in the Andes when disaster struck