Mid fall rescue of a sky diver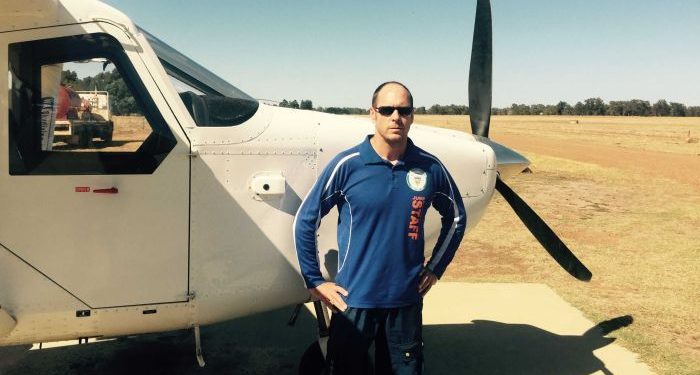 Video of unconscious skydiver rescued ,during seizure
Christopher Jones called it, ?possibly the scariest moment of my life,? and now the Internet is experiencing the nail-biting 30 seconds on YouTube, recorded on a helmet-mounted camera.
Three months ago while jumping during an Accelerated Free Fall training program Jones suffered a seizure at 9000 feet before he had opened his parachute.
?I then spend the next 30 seconds in free fall unconscious,? wrote the 22 year old from Perth who uploaded the video to YouTube on Sunday.
Skydive master Sheldon McFarlane said he noticed Mr Jones was in trouble, but did not realise he was suffering a seizure.
He said he knew Mr Jones' parachute would automatically deploy, but "given the circumstances" wanted to help.
"At no time was I worried he was going to hit the ground without a parachute, but given the circumstances and where we were I thought it would be better to get him under parachute earlier than later," Mr McFarlane said.
"I managed to catch him on my second attempt and deploy his parachute.
"As far as difficult, yeah, it was OK. I got him."
 Photo: Skydiving instructor Sheldon McFarlane (pictured) managed to deploy the man's parachute during freefall. (ABC News: Nicolas Perpitch)
He said he thought Mr Jones might have been suffering from "sensory overload", and it was only when he got to the ground he realised what had happened.
He described the experience as "pretty out there".
"I've never seen anything like this before," he said.
Thankfully, at around 4000 feet, his jumpmaster, Sheldon McFarlane,  managed to catch up to him in the air and pull his ripcord. His conscious returned and he land safely back on the ground.
The training academy?s questionnaire specifically asked whether participants had illnesses or conditions such as epilepsy.
We strongly emphasizes the need for safety .
We advise our readers not to assess risks inherent ,in any adventure sports ,casually and in a light manner .Please seek a professional opinion on whether that adventure sport is meant for you.Let?s live to enjoy another adventure.
Article sourced from Good news network and ABC.Please click the links to read more.